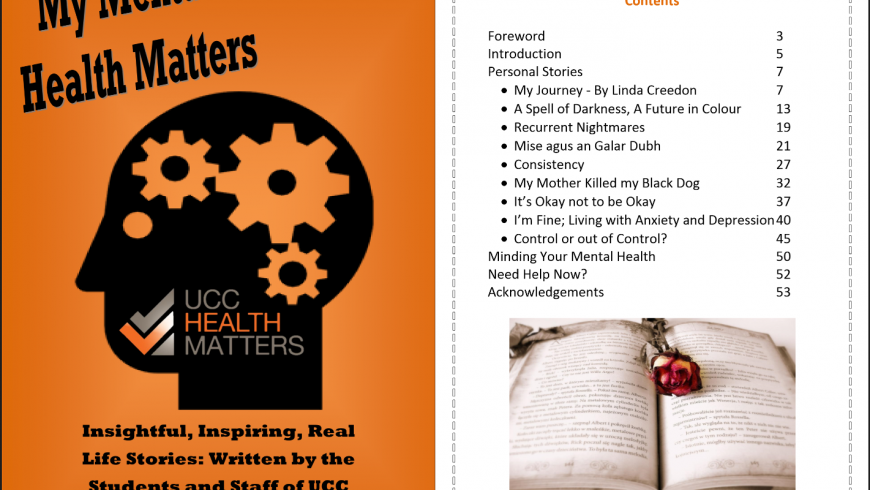 My Mental Health Matters- UCC Health Matters
Insightful, Inspiring, Real Life Stories: Written by the Students and Staff of UCC. This booklet was produced with the help of a generous grant from the Donal Walsh #LiveLife foundation. Find out more about the foundation here: donalwalshlivelife.org.
Introduction:
This booklet contains various pieces, which were all written by students and staff of UCC who volunteered to share an insight representing the broad experiences of recovery and dealing with mental health issues. We hope that while reading this you learn something new about mental illness and are inspired by the brave people who made a contribution. Our goal is that these contributions will in turn help to break down the barrier of stigma surrounding mental health issues in the UCC community.
The 'My Mental Health Matters' project was undertaken to inform us of how our class mates and colleagues have dealt with and are currently dealing with their mental health issues. Our main aim is to reduce the stigma when discussing mental health and to encourage people of all ages to talk about their mental health and well-being.
This booklet shows that there are many steps involved in the improvement of your mental health. We hope to raise the awareness of the many people in our university community currently living with mental health concerns and of those who have faced them in the past. We want to display that there are many ways to deal with these concerns and go on to lead a full and happy life.
The decision of students and staff to contribute to this booklet required careful consideration and thought. As people who have suffered from mental illnesses they can offer hope and insight to those who are currently struggling. They have the ability to inspire others to talk about their mental health concerns while also celebrating the journey that they have travelled. Their willingness to share their personal story about their recovery to the public is the kind of brave action that will help stamp out the stigma surrounding mental illnesses.
The views expressed in this booklet are personal statements and do not necessarily reflect the views or opinions of UCC Health Matters.