State of Mind Ireland Mental Health Clinic
Counselling | Psychotherapy | Psychiatric | Psychological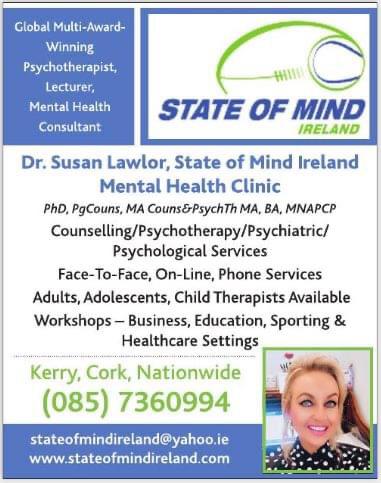 Who We Are
Changing Conversations | Changing Lives
State of Mind Ireland is comprised of a team of service users, players, coaches, mental health experts and sport professionals whose principle aim is to improve the mental health, wellbeing and working life of sports players and sporting communities throughout Ireland. We are interested in raising awareness of mental fitness by delivering comprehensive education sessions throughout Ireland (North and South) to Sports Clubs as well as to Colleges and Community Groups aiming to raise awareness of mental health issues within sport. The key concept is that of Mental Fitness-promoting resilience, positive mental health, mindfulness and wellbeing by adopting a strengths-based approach. Key ways of delivering this message include delivering presentations nationwide, using player and fan ambassadors, utilising social media to show how to access help, building community resilience via participation in Sport and working in partnership with community groups and the educational, health and voluntary sectors.
A key member of the State of Mind Family is Jimmy Gittins who had a professional rugby league career spanning over a decade. Jimmy sustained a serious neck injury that ended his rugby league playing career and he now tirelessly promotes the importance of reaching out and speaking about your State of Mind.

"I'm sure when bad things happen to us in life, many of us would want to forget they ever happened. To share my life's adversities with the hope of possibly helping others, was something I felt it was the right time to do. But capturing it correctly and accurately was very very important to me. The understanding of this difficult task was easily taken care of by the professionalism of Mocha, making it a pleasure to share my story with them. The finished film totally blew me away! It far outweighed any expectations I had. I just hope that all involved realise their worth in delivering such a powerful film." Jimmy Gittins
Mental Fitness
Resiliance & Wellbeing
Feel Good | Engage Better | Live Well
Help & Support
Help A Friend
Engage | Encourage | Empower
Mindfulness
Pay Attention | On Purpose
Present Moment | Non-Judgemental
Five A Day - For Health & Happiness
The following five actions can help improve your mental fitness and wellbeing.
Connect with family, friends, colleagues and neighbours. At home, at work, at school or in your local community. Building connections…

Go for a walk, run, cycle or play a game. Step out into the garden, dance or exercise. It will make…

Be curious and aware of the world around you and what you are feeling. Reflecting on your experiences will help…

Try something new, rediscover an old interest, sign up for a course, take on a different responsibility at work, learn…
Take The Pledge
Print | Smile | Tag | Share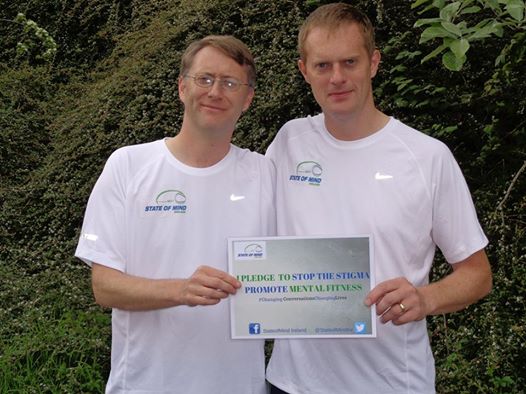 Events
Our upcoming presentations and events
Following the success of our presentation in September 2014, Dublin, we recently launched the State of Mind Ireland campaign at the CRSI 8th Annual Conference in June 2015, in UCC, Cork. The principle aim of our presentations is to highlight the significance of promoting issues surrounding mental health, wellbeing and the working life of sports players and sporting communities throughout the island of Ireland (North and South). State of Mind Ireland is also in the process of rolling out training in partnership with the HSE. We believe that early intervention will empower third level students by promoting mental fitness that is their level of resilience (ability to bounce back from adversity and wellbeing). The concept of the State of Mind Family is integral to the ethos of the entire project. Please take the pledge and change conversations. Together we can stop the stigma.


Please visit the State of Mind Ireland Events for more information.
What People Have To Say
All I had was my own State of Mind
"I think the State of Mind campaign is hugely important. Mental Health issues need to be addressed so talk to someone if you're not feeling right, it took me years to find the courage but it has been the best thing I have ever done for myself & my family"

James Wade / Professional Darts Player

"We're all human and sometimes things don't always go our way. Don't be afraid to talk to a mate when times are tough. With time you will feel better especially if you reach out for help. I support the State of Mind campaign"

Doug Howlett / Auckland, Munster, Hurricanes, Highlanders and All Black Wing

"Mental health is something we cannot afford to ignore. Things sometimes look OK from the outside, but inside there's often lots to deal with. Just because someone is a sportsman or has good jobs, it doesn't mean they're immune to depression, it just needs to be brought to the forefront because it can have tragic circumstances, particularly with my friend Terry."

Andy Griffin / Reading Football Club

"If your mate is suffering from a mental illness he may not tell you, but you might pick up something's not right. Just ask him how he's going, let him know you're there if he wants to talk. It's what good mates do. The smallest gesture can make the biggest difference."

Joel Parkinson / World's number 1 surfer

"Broken minds – the same as broken bones; one can be seen – the other cannot. However both can be mended – it's good to talk."

Greville Mitchell / Chairman of the World Professional Surfers WPS

"I managed to find a way to get out of it by speaking about it to my friends and family, it's a slow road and it tends to still creep up on you some days but knowing that there are friends around that can listen to you again and again helps. I've been working 9 to 5 for 8 years now and I've been a snowboarder for 20 years, I never stopped being a snowboarder. Life doesn't stop at the end of one's career, life changes and so do careers, we are fortunate to be part of the lucky few that get to experience this."

David Pitschi / World Class Snowboarder

As a former footballer I am aware of the pressures of professional sporting life and the toll they can take on a person's mental health. I fully support the State of Mind programme and hope it can raise awareness amongst players, coaches and fans of rugby league and the wider community and help people to think about their and others wellbeing.

Paul Merson / Arsenal, Aston Villa, Portsmouth, Walsall & England Footballer

"I fully support the aims and objectives of this excellent programme of support for professional players at the elite level. I would also offer my support in assisting the Programme Board in their work to encompass all levels of rugby league, professional and amateur. It is imperative that we give identified staff in our sport training in mental health first aid to equip us with the necessary skills to detect early signs of problems and as a consequence seek appropriate help at the earliest opportunity. Rugby League needs this type of programme now and to continue into the future for sustainable benefit to all players at whatever stage in their career."

Jon Wilkin / St Helens RLFC, England and Great Britain and Chairman of the Super League Players Association – Th13teen

"For too long mental health has carried a stigma, with the State of Mind round you can raise awareness and help others; If you aren't feeling ok tell a mate and get some help. I promise you will feel better"

Andrew Johns / Newcastle Knights, Warrington Wolves, NSW and Australia

"Rugby League should celebrate the high regard and love that its fans have for the sport and how it can manifest itself in the dedicated, committed and professional way that those who are leading this give of their time freely and the NHS and Rugby League Community work together to drive the programme forward. I fully support the aims and aspirations of this wonderful programme and all those involved and as such it has my total support and endorsement."

Adrian Morley / Warrington Wolves, Leeds Rhinos, Australia's Sydney Roosters, Bradford Bulls

"People think sportsmen are robots but they are not. Experiencing depression was a shock to me and at first I was unwilling to talk about it. It never occurred to me to open up or tell people about my problems. Thankfully, with the support of all those around me, friends and family I have come through the experience. There's a perceived problem attached to men asking for a bit of help or even opening up to friends and family members. It's not the done thing. But if you have a toothache, you go to the dentist. Yet if you're feeling low down, people tend not to talk about it."

Alan Quinlan / Munster and Ireland Rugby Union International

"I am fully supportive of the State of Mind campaign. Mental health issues need to be addressed and doing it through sport should raise the profile of this worthy cause"

Roy Keane / Manchester United, Celtic & Ireland